Eyes on Ukraine
Eyes on Ukraine is an initiative by Canadian ophthalmologists to support the treatment of eye injuries and their resulting sequelae in Ukraine. Ukrainian ophthalmologists are tirelessly attending to complex trauma around the clock. Their distribution networks for obtaining much-needed medical essentials and surgical equipment have been fractured. Their supplies are running dangerously low.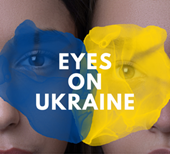 We urge you to donate to Eyes on Ukraine

Ukraine is in turmoil. Thousands of innocent people – men, women, and children – face injury, hunger, and death from Russia's unprovoked invasion. Others tenaciously fight for the security of their families and country. Amid war, eye injuries are mounting. 

Funds will be used to:

1) Procure and distribute much-needed ophthalmic medications and equipment to Ukrainian ophthalmologists.
2) Establish a telemedicine program to facilitate collaboration between Canadian and Ukrainian ophthalmologists in managing complex cases.
3) Provide educational materials to front-line doctors and medics in Ukraine on managing ocular injuries.
4) Be a source of support for anticipated longer term sequelae resulting from this unprecedented attack, displacement and disruption of millions of Ukrainian citizens and the ophthalmologists who care for them.

See below for the Eyes on Ukraine Posters that you can download and share in your offices and communities:
How to Donate:
Through CanadaHelps
Donate via their website or using the donation form below:
By Cheque
Make payable to "COS Foundation"
On the Memo Line, please include "Eyes on Ukraine"
Mailing Address: 110-2733 Lancaster Road, Ottawa, Ontario, Canada K1B 0A9
This partnership with the COS Foundation will permit the creation of a charitable fund to facilitate collection of monetary donations and issuance of tax receipts. Tax receipts will be issued for donations of $20 and higher. In order to receive a charitable tax receipt, please send an email to [email protected] with your full name and address, and a tax receipt will be emailed to you.

Our Working Group is in regular communication with Ukrainian ophthalmologists and will dynamically support them in the coming weeks. This initiative will collectively represent Canadian contributions to those in dire need.
For more on Eyes on Ukraine, please listen to Dr Millicent Stone's Live Longer: The Podcast
Did You Know?
The COS Foundation is the philanthropic and outreach arm of the Canadian Ophthalmological Society. The goal of the COS Foundation is to enhance ophthalmological care and to advance education and research in the field of ophthalmology in Canada. It is through the COS Foundation that we aim to help those around the world access crucial resources for vision health.