COS Gala Evening
Monday June 22, 1800-2100
Glenn Gould studio (at the CBC Broadcast Centre)
Join us for this extra-special event! This gala evening will be one to remember. Start your evening on a high note at Glenn Gould studios, located in the CBC's national broadcasting centre. COS guests will be treated to a concert by the Via Salzburg Chamber Orchestra, led by renowned violinist Mayumi Seiler. The program will run the gamut from classical favourites by Vivaldi and Grieg to lesser-known works that will sweep you away. And we even promise you some surprises along the way!
Buses will leave the Westin hotel at 6 pm for the concert at the Glenn Gould studio and return to the hotel in time for the gala reception and a four course dinner with wine.
Requests for a full table (rounds of 10) are accepted.
Please print the reservation form and fax to Rita Afeltra at 613-729-7209.
Tickets: $135 per person (all inclusive).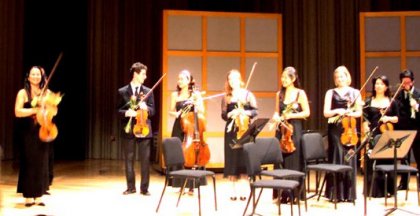 Via Salzburg