Highlights of the 2016 CRS Annual Meeting
Between March 3 and March 6, 2016 the fourth annual Canadian Retina Society (CRS) Meeting, Canada's premier educational event for retina specialists, took place for the first time in scenic Mont-Tremblant, Québec. The spectacular setting and "joie de vivre" of the number one ski resort in Eastern Canada provided the perfect backdrop for optimal learning, networking and adventure experiences for delegates attending this year's event.
The meeting brought together an impressive breadth and scope of international and local expertise. The exceptional scientific program was delivered by guest speakers from the US and Canada, with topics ranging from present and future uses of optical coherence tomography, technological and technique-based advances in vitreoretinal surgery and imaging features and therapeutic options for macular disease(s).
The CRS was honoured to welcome Dr. Mary Lou Jackson who presented the second-ever Dr. Mila Oh Memorial Lecture. Dr. Mary Lou Jackson is an ophthalmologist and current director of Vision Rehabilitation at the University of British Columbia in Vancouver, BC. Prior to this, she was director of Vision Rehabilitation at the Massachusetts Eye and Ear Infirmary in the Harvard Department of Ophthalmology. She is also the past chair of the American Academy of Ophthalmology Vision Rehabilitation Committee. Dr. Jackson's current research interests include Charles Bonnet Syndrome and outcomes of comprehensive vision rehabilitation. CRS would also like to thank The Retina Foundation of Canada for their generous support of this lecture.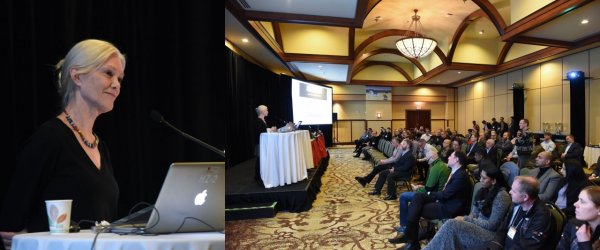 Dr. Mary Lou Jackson speaks at the Dr. Mila Oh Memorial Lecture. Photo credit: Peter Wyslouzil
On Sunday, March 6, 2016 the results of the second, made-in-Canada "Canadian Preference and Trends (CAN-PAT) Survey" were presented to meeting attendees. Thanks to all the CRS members who took the time to complete the survey. The CAN-PAT survey data provided a fascinating glimpse into a wide range of medical, surgical, and socioeconomic topics.
It wasn't all work and no play for CRS members and their families, however. The fantastic ski conditions and social events, including the Welcome Reception and the ever-popular Ice Bar, provided ample opportunities for family leisure time, networking and catching up with retina colleagues from across the country.
Feeling the 'joie de vivre" at this year's CRS networking and social events. Photo credit: Peter Wyslouzil (click for larger image)
This year's meeting would not have been possible without the hard work and leadership of Dr. James Whelan, Immediate Past-President of the CRS; Dr. Netan Choudhry, Co-Chair and CPD Director; and Dr. Pradeepa Yoganathan. In particular, we'd like to thank Dr. Whelan for his exceptional leadership of the CRS over the last three years. We also want to take this opportunity to congratulate and welcome Dr. Amin Kherani as our new incoming President of the CRS, our new vice-president Dr. Matt Tennant, and our new treasurer Dr. Arif Samad. We are confident that under your leadership, the CRS will continue to deliver valuable programming and initiatives to CRS members.


Drs. Pradeepa Yoganathan, James Whelan and Netan Choudhry (l to r). Dr. James Whelan and Dr. Amin Kherani. Photo credit: Peter Wyslouzil
CRS would also like to thank the guest speakers and panelists who lent us their expertise and provided excellent opportunities for education and discussion. We also thank the delegates who attended sessions, the family members who came to enjoy the fun, and the sponsors who gave us their generous support. The conference would not have been the same without the contributions of each one of them. The CRS would also like to thank the staff of the Canadian Ophthalmological Society for their attention to the many behind-the-scenes details that allowed this meeting to run smoothly.
To view photos from this years' event please click here.
We look forward to seeing everyone at next year's meeting in beautiful Whistler, British Columbia, March 2-5, 2017.
James Whelan, MD
Immediate Past-President, CRS
Netan Choudhry, MD
Co-Chair and CPD Director
Pradeepa Yoganathan, MD
Co-Chair CRS meeting
---