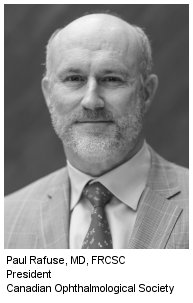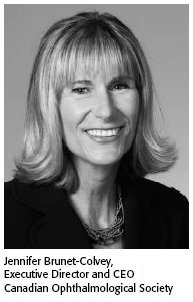 New COS bylaws
Under the new Canada Not-For-Profit Corporations Act, new bylaws have been drafted, which will be presented for approval at the 2014 Annual General Meeting (AGM) on Thursday, June 5, 1215-1330. We urge all members to attend the AGM, as a quorum is essential for passing a motion to adopt the new bylaws. We thank Dr. Paul Rafuse, COS president and board member, Mona Harissi-Dagher for their tireless efforts to complete this ambitious task within a tight deadline.
COS membership survey
A recent membership survey (response rate 21.4%, n = 244) revealed that the primary reason respondents belong to the society is the annual scientific meeting (70.1%), followed by CPD activities, loyalty, CJO, networking, clinical practice guidelines, and advocacy. Interestingly, although advocacy ranked the lowest of the options provided, 68.1% of respondents said advocacy was "very important" or "important." When asked to indicate items the COS should start doing, "Take a more active role in government advocacy" ranks second of four options, behind "Be involved in developing online CPD for credit."
In terms of various proposed initiatives to add value to COS membership, respondents identified the following as most important: CPD based on clinical practice (71%), supporting a strong residents' program, providing web-based learning, and taking a leadership role in the issue of under-/unemployment.
COS board approves 5-year strategic plan
In the summer and fall of 2013, we undertook a strategic planning process and conducted a membership survey. The 5-year Strategic Priorities, Strategic Directions and Intended Outcomes were tabled at the November 2013 board meeting with a view to making the plan operational by September 2014. The plan will set the course for the upcoming years. Our efforts and resources will be devoted to achieving identified goals in the following six areas: governance, financial resource management, education, advocacy, membership, and communications and media relations. At the March 8-9, 2014 Board of Directors' meeting, the strategic priorities in each key area were confirmed.
National Physician Survey
Table 1. Distribution of ophthalmologists by province and territory

---

Province/
territory
Ophthalmologists
Ophthalmologists per 100,000 population
NL
16
3.1
PE
6
4.1
NS
51
5.4
NB
26
3.4
QC
324
4.0
ON
423
3.1
MB
33
2.6
SK
23
2.1
AB
105
2.7
BC
200
4.3
Territories
1
0.9
Canada
1208
3.5
Results of the 2013 National Physician Survey (NPS) were recently released. Some key ophthalmology-related findings are presented below.
According to the NPS, there were 1208 ophthalmologists practising in Canada in 2013, distributed among the provinces and territories as shown in Table 1. The number of ophthalmologists per 100,000 population ranged from a low of 0.9 in the territories to a high of 5.4 in Nova Scotia (reflecting the fact that this province provides tertiary care through Dalhousie University medical school for the other three Atlantic provinces). For the country as whole, this rate was 3.5, the highest ratio since 2003, when it was just over 3.5 per 100,000 population.
Women were underrepresented in the specialty - of 1208 ophthalmologists, 261 were women (21.7%). This overall ratio has remained relatively stable since 1995. However, encouragingly, in the under-35 age group, 43% of ophthalmologists were female. Fifty percent of ophthalmologists are between the ages of 44 and 64 (Table 2). Most ophthalmologists felt they have struck a good work-life balance and the vast majority were satisfied with their current professional life.
Table 2. Age distribution of Canadian ophthalmologists (n = 1208)

---

Age bracket (years)
Ophthalmologists, n (%)
Men, n (%)
Women, n (%)
<35
63 (5.2)
36 (57)
27 (43)
35-44
237 (19.6)
161 (68)
76 (32)
45-54
296 (24.5)
222 (75)
74 (25)
55-64
308 (25.5)
247 (80)
61 (20)
≥65
287 (23.7)
267 (93)
20 (7)
Data not available
17 (1.4)
14 (82)
3 (18)
Table 3. Employment and quality of life status among ophthalmologists

---

Survey statement
Response, %
Overworked in my discipline
29.8*
Employed in my discipline to my satisfaction
58.0*
Underemployed in my discipline
11.1*
Not employed in my discipline
0*
No response
1.1*
Satisfied or very satisfied with work-life balance
55
Satisfied or very satisfied with current professional life
80

---

*These findings should be interpreted with caution because of the very low rate of response to the survey by ophthalmologists (13.8%).
COS receives high praise in RCPSC accreditation review
The COS has received 5-year accreditation and high praise from the Royal College of Physicians and Surgeons of Canada (RCPSC) for the quality of its 2013 accreditation review and for its continuing professional development (CPD) program and practices generally. The RCPSC has recognized the COS as a model of excellence in the Canadian national medical specialty society community and has invited the COS to share its expertise with other national specialty societies and to submit examples from the 2013 accreditation application for a 2014 RCPSC Accredited Provider Innovation Award.
RCPSC officials commended the COS for doing an exceptional job for the Canadian ophthalmology community in the areas of needs assessment, in the co-development of dynamic programming with sponsors, and in its educational methods and delivery. The reviewers were impressed with the transparency and traceability of COS's CPD activities from conception to evaluation.
The results of the recent accreditation review were excellent, with COS receiving "Adherent" or "Exemplary" designations in all eight CPD standards. The adjudicators congratulated the COS's Maintenance of Certification Committee and its chair, Dr. Colin Mann, as well as the COS Board of Directors and staff for their hard work and dedication.
The COS was also praised for its performance management system (the "Balanced Scorecard"). The Balanced Scorecard is a tool used to ensure that COS activities, including its CPD program, are "continuously aligned with COS's vision, mission, values, and strategy" through the ongoing assessment and monitoring of individual CPD goals to ensure their correspondence with organization-wide values and commitments.
As an accredited provider of CPD for the RCPSC, the COS is honoured to have received this exemplary accreditation report. We look forward to continuing to provide and accredit the highest quality continuing medical education activities on behalf of the RCPSC and the Canadian ophthalmological community.
Congratulations to the COS on successfully renewing your status as a Royal College accredited CPD provider - you play an integral role within the Royal College's MOC Program. Thanks to the COS for all that you do… your application demonstrated a strong commitment to innovation and to providing high-quality learning opportunities for specialist physicians - all CPD accreditation standards were deemed either fully adherent or exemplary. We hope that you will consider sharing some of your work with other organizations moving forward.


- Jennifer Gordon, MEd, Associate Director
Continuous Professional Development, RCPSC
Physician underemployment and employment
COS is continuing to monitor health human services and manpower projections. Almost 50% of ophthalmologists in Canada are over the age of 55 and COS is concerned about the unemployment and underemployment of young ophthalmologists. It will be important to monitor the trends in light of the aging population, expanding scopes of practice, the advent of collaborative interprofessional models, and the employment opportunities for young ophthalmologists.
The RCPSC released a report on physician underemployment and unemployment based on a two-year national workforce study. See What's really behind Canada's unemployed specialists? Too many, too few doctors?.
COS past-president, Dr. Lorne Bellan, attended the National Summit on Physician Employment hosted by the RCPSC on February 18-19, 2014 in Ottawa. Approximately 110 people attended, representing many specialty societies, provincial governments, a few medical licensing authorities, a few provincial physician associations, and other interested parties. Data from surveys of graduates carried out by the RCPSC in the last few years were presented. Among the findings was the fact that 13 of the 30 ophthalmology graduates who responded had indicated they were having difficulty finding work. The numbers were worse for orthopedics, CVT surgery, urology, and radiation oncology. Sixty-two percent of those having difficulty finding work were planning on continuing training through fellowships.
Of those who could not find jobs in all fields, reasons cited included poor access to job postings (35%), didn't want to go rural (29%), couldn't move because of their spouse (20%), and wanted to stay near family (39%). Twelve percent were taking locum positions. The National Physician Survey found high levels of reported stress among non-family medicine residents, with 75% reporting they were "somewhat stressed" or "very stressed" about finding employment at the end of their residency.
There was general consensus on the need for more data and, in particular, needs-based planning models. The Physician Resource Planning Task Force (PRPTF) is working on gathering this data, but is unsure of its continued funding. The meeting attendees endorsed the work of the PRPTF and recommended that the deputy ministers agree to continue to fund this group.
The CMA has developed a 10-point action plan as a starting point to address physician resources, especially issues around unemployed or underemployed specialists. The plan will involve a revision of the CMA policy on physician resource planning and creation of a policy statement on the impact of emerging technologies and models of care. Other parts of the plan focus on education and training issues.
In addition, the CMA has updated the "career intelligence" it provides in the form of specialty profiles to help medical students make career choices. The 38 profiles, created for the CMA's Canadian Collaborative Centre for Physician Resources (C3PR), now include information on the amount of stress residents have reported facing as they prepared to enter the job market after finishing their training.
CMA Specialist Forum
On February 7, 2014, Dr. Sherif El-Defrawy, co-chair of the Eye Health Council of Ontario (EHCO), head of ophthalmology at U of T, and a past-president of the COS, addressed the CMA Specialist Forum (which brings together all of the national specialty societies in Canada). He presented the eye health council as a solution to the proposed expansion in scopes of practice affecting so many national specialty societies. The concept of an eye health council with representation from ophthalmology, family practice, and optometry was first introduced in Nova Scotia over a decade ago. Based on the success of this collaboration, EHCO was conceived in Ontario about four years ago.
EHCO provides a successful example of collaborative, interprofessional care. It brings together ophthalmology and optometry, the two regulatory bodies, the two provincial professional organizations, family practitioners, the academic communities, and the Ministry of Health and Long-Term Care. Beginning in early spring of 2013, COS collaborated with a number of key stakeholders at the federal and provincial levels to pass a motion at the CMA's General Council last August, calling for the establishment of eye health councils in each province as a way to protect patient safety.
Eye health council model receives broad-based support
The development of eye health councils is also being supported by the Royal College of Physicians and Surgeons of Canada (RCPSC). The RCPSC's president and CEO wrote to the Alberta minister of health in May 2013 to express the college's concerns over the proposed expansion of scopes of practice for optometrists in Alberta and the risk that this would present to patient safety. The RCPSC suggested that the Alberta health minister consider establishing an eye health council in Alberta. In December 2013, the RCPSC issued a position statement titled Ensuring safe, high quality care: Managing evolving scopes of practice of all health professionals. (Please see footnote b at the end of this document.)
This position statement cited the EHCO as a successful example of inter-professional, collaborative care. In January 2014, the president of the CMA wrote to the minister of health of Alberta, advocating the establishment of an eye health council in that province. A copy of the letter was sent to all of the provincial ministers of health.
Canadian Retina Society meeting - Whistler, BC
Again this year, COS partnered with the Canadian Retina Society (CRS) to present the 2nd annual CRS meeting, held this past February in Whistler, British Columbia. The fully accredited scientific program attracted 102 delegates for two days of intensive learning (and skiing!). Twelve industry partners supported the meeting, which for the first time included two co-developed accredited programs. Preliminary evaluations have been very positive and plans are already underway for 2015.
Co-developed accredited programs
COS is continuing to explore opportunities to work with industry partners to expand the scope and number of CPD activities based on member needs. Co-developed accredited programs (stand-alone programs) and co-developed accredited symposia (in conjunction with scientific meetings) offer valuable opportunities to work with our industry partners within RCPSC guidelines and to provide valuable learning for our members. COS co-developed two accredited symposia with industry at the Canadian Retina Society meeting in Whistler, BC. These educational offerings complemented the fully accredited scientific program. COS is also co-developing the INSIGHT program with Allergan (for cornea and glaucoma) and exploring co-developing an online program on CanMEDS roles with l'Université de Montréal.
COS clinical practice guidelines
COS has developed and published four sets of evidence-based clinical practice guidelines (vision screening, cataracts, glaucoma, and diabetic retinopathy). Creating guidelines is a labour-intensive, expensive and time-consuming process and there are challenges in keeping existing guidelines current and undertaking new guideline projects. The Board of Directors recognizes the need to find a guideline model that is financially sustainable and more responsive in terms of updating guidelines in light of new evidence.
CJO resource centres
Elsevier (publisher of CJO) recently secured funding to create an online resource centre on age-related macular degeneration. In the short term, this site will contain related articles from CJO and other Elsevier publications. It is hoped that we will be able to expand this model to cover other disease states and to eventually house continuing professional development modules and customized multimedia content (e.g., video roundtable discussions, Q&As, etc.).
Financial update - fiscal year 2013
The audited financial statements for the year ending December 31, 2013 were approved by the Board of Directors on March 9, 2014. We successfully balanced the budget for a fourth consecutive year with contributions to reserves year over year. As the steward of funds, COS will continue to maintain the effective, transparent, and responsible use of resources as a top priority. We continue to closely monitor budgets and to look for every opportunity to increase revenues and cut expenses. These additional resources will enable COS to continue to increase its value proposition for its members.