VERSION FRANÇAISE
---
FALL 2017
In Defense of Ophthalmology - A Call to Arms
Dear Colleagues,
As I pass the mid-point of my term, it is my pleasure to address you. In considering the theme for this issue, I was guided by one of the core values of COS - Leadership - and how we, as individual physicians and members of COS, can live up to that important value.
Ophthalmologists across the country are worried about the current and future state of our profession:
Expanded scopes of practice from other disciplines threaten to undermine the value of our skills and put our patients at risk
The public at large is confused by the varying (and distinct) roles of the members of the eye healthcare team (the three Os)
Government cost-cutting, such as fee reductions for cataract surgery in some jurisdictions, threatens our income and reflects a profound lack of appreciation for our surgical skills
Proposed government changes to the taxation rules for small business have serious potential consequences for the profession of medicine in general
In this climate, and in the context of exciting technological advances, our population is aging and there will continue to be unprecedented need for our services and expertise.
The interplay of a number of factors has led to these situations. In terms of scope of practice, other members of the eye healthcare team have frankly done a better job of promoting their profession and making their voice heard. They have spent the money necessary to develop campaigns that have captured the attention of and positively engaged the public. They have effectively stayed in front of key healthcare decision-makers and educated them on the value of their profession. Drastic fee reductions in ophthalmology are the result of a lack of understanding of our profession by governments. In addition, these fee reductions reflect fundamentally illogical thinking that because something takes less time, it is inherently worth less, without considering that, in the face of ever-changing technology, the training and skills required are more valuable than ever. While attempting to meet the growing demand for cataract surgery, we are essentially being punished for being innovative, faster, safer and more precise in our outcomes. Our salaries are easy picking for the media or government when no mention is made of the salaries we pay our staff, the very expensive equipment and technologies we require, and malpractice insurance.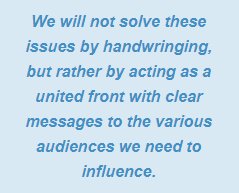 So what are the solutions? This is where leadership comes in - at the individual and COS levels. We will not solve these issues by handwringing, but rather by acting as a united front with clear messages to the various audiences we need to influence. We must learn from other organizations that have done this successfully. Apathy will lead only to further erosion of our profession, a chipping away at our central role in the eye healthcare team, and subsequent diminishment of our reputation in the public's eye. Currently, our public profile is being managed by forces outside our profession, and it is time for us to reclaim this role and ensure we are portrayed and viewed in the most accurate light.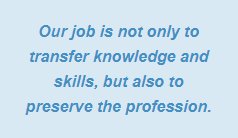 As individual physicians, we have an obligation to show leadership every day in our clinics and ORs in order to ensure that Canadians receive the highest quality evidence-based patient-centred eye care. Scopes of practice should be determined by proper education, not legislation, and our patients should be entitled to safe surgery only by surgeons. Our job is not only to transfer knowledge and skills, but also to preserve the profession - and this means getting involved and modelling constructive engagement to the younger physicians we train and mentor. And finally, we have a responsibility to continue to innovate and advance our professional skills, while ensuring that such innovation doesn't come back to haunt us in the form of use by inadequately trained allied health professionals or fee reductions.
At the national level, COS has always provided a united voice for ophthalmology. As COS has grown, so too have our relationships with both the subspecialty societies and the provinces. In terms of the subspecialty societies, we have evolved to tackling important issues around new medications (e.g., the advent of anti-VEGF therapies) and innovations (e.g., producing a report on uninsured services). In the past, provincial issues were brought to COS via the Council on Provincial Affairs. And while this Council provided a forum to share success stories and air grievances, there was no mechanism to effectively deal with the provinces' concerns. The Council was therefore disbanded and replaced with the COS Council on Advocacy, under the leadership of Dr. Phil Hooper. Following extensive consultation with the provinces, COS has undertaken an ambitious public relations campaign. The See The Possibilities campaign aims to elevate the profile of ophthalmology and enhance the public's, government's and media's understanding of the skill and innovation we bring to eye health. However, COS is regularly called upon to support the provinces (where scope of practice and fee decisions occur), and it has become evident that many provinces lack the infrastructure and volunteer physician leader resources to mount effective and timely government and public relations responses as issues arise. And without a voice, their ability to prevent or respond to threats at the local and provincial levels is seriously diminished.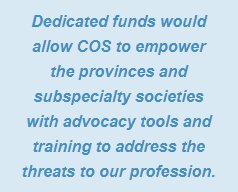 In order to fulfill its mission to be the national, recognized authority on eye and vision care in Canada, COS will be asking each member to provide a contribution to the Advocacy/Public Awareness Fund to support the See The Possibilities campaign and to support the development of advocacy training materials. The See The Possibilities campaign will help position ophthalmology as the recognized "go-to" resource for government, media and the public. This, in turn, will influence the public perception of ophthalmology and will help you in your interactions with provincial governments. As physicians, we don't have the training and skill sets to effectively lobby and influence government. Dedicated funds would allow COS to empower the provinces and subspecialty societies with advocacy tools and training to address the threats to our profession. We must accept that we have to pay for the expertise to help us help ourselves. Advocacy, government and public relations experts cost money and campaigns take time, so we need to be in this for the long-term. Now is the time to invest in the profession. And while no one likes having to spend more money, I ask you to carefully consider the costs of doing nothing.
I am issuing a personal call to arms to every ophthalmologist to be part of the solution, locally and nationally. Please participate at your local level by getting involved in your provincial chapters and associations and supporting their work. And, when it comes time to renew your COS membership, please select the option to support our Advocacy and Public Awareness campaign efforts at the national level.
Best regards,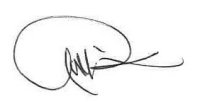 Guillermo Rocha, MD, FRCSC, FACS
President, Canadian Ophthalmological Society
---