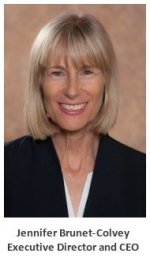 Update on the Wait Time Alliance
While much has been done over the past decade to improve timely access to care, considerable work is needed to match the levels of performance seen in other developed countries. Progress and challenges in Canada are outlined in detail in the Wait Time Alliance's (WTA) 2014 Report Card on Wait Times in Canada, issued June 3, 2014.
A strategic planning session was held on Monday, September 22 to develop the three- to five-year plan for the WTA. On September 23, COS attended a breakfast meeting with MPs on Parliament Hill. Cardiologist Dr. Chris Simpson, chair, WTA and president of the Canadian Medical Association, emceed the event. Dr. Suzane Renaud, past-president of the Canadian Psychiatric Association was the French spokesperson and Nick Nanos presented some very interesting data.

Members of the Wait Time Alliance in front of the Peace Tower, September 2014
Achievements and major initiatives for the upcoming year
COS is continuing to break new ground. A summary of our most recent achievements can be found in the society's semi-annual report to the American Academy of Ophthalmology.
COS will continue to focus on its key priorities: member services, continuing professional development (CPD) and health policy advocacy. Specifically:
COS will move forward with the implementation of its 5-year strategic plan, including restructuring some of its committees to better meet the needs of members.
The Canadian Journal of Ophthalmology will be creating a primary care supplement (for family and emergency physicians) and will be developing CPD content to increase opportunities for Section 3 MOC credits derived from CJO articles.
COS will explore e-learning and web-based learning programs for CPD credit (e.g., sponsored online resource centres).
With the Canadian Retina Society (CRS), COS will co-develop the 3rd CRS scientific meeting in February 2015.
COS will expand educational opportunities at the CRS and at COS annual meetings by providing co-developed accredited symposia.
COS will continue to strengthen relationships with subspecialty societies and with provincial associations.
COS will enhance its ability to respond to inquiries from the public and media with additional staffing for communications, media relations and public affairs.
Certificate of Continuance
Industry Canada recently issued the COS its Certificate of Continuance. This allows COS to continue under the new Canada Not-for-profit Corporations Act. Special thanks are due to Drs. Paul Rafuse and Mona Harissi-Dagher for their leadership throughout this long and arduous process.
COS receives 2014 RCPSC Accredited CPD Provider Innovation Award
COS received one of three 2014 Royal College Accredited CPD Provider Innovation Awards for its surgical skills transfer courses (see news story). This award recognizes accredited CPD providers for their innovative educational and administrative policies, processes, resources and tools.
A certificate was presented to the COS on September 29, 2014, during the College of Family Physicians of Canada and Royal College of Physicians and Surgeons of Canada's joint 6th National CPD Accreditation Conference in Toronto. The award will be presented at the COS Annual Meeting in June in Victoria.
COS President, Dr. Allan Slomovic, gave a presentation on the surgical skills transfer courses. COS first introduced surgical skills transfer courses during its 2010 Annual Meeting under the leadership of Dr. Slomovic, then Chair of the Annual Meeting Planning Committee and Dr. Rusty Ritenour, member of the Annual Meeting Planning Committee. The courses were an immediate success, as participants saw a real need for more hands-on and individual teaching.
The COS continues to consult with members of the ophthalmological community to determine and meet their educational needs. It is through these consultations that we created a new skills transfer course in oculoplastics held at the 2014 COS Annual Meeting in Halifax. For the first time, participants learned new skills on surgical-grade cadavers.
2014-2015 COS Board of Directors and Council elected
The 2014-15 slate of COS officers was elected at the Annual General Meeting in Halifax in June. COS thanks these dedicated volunteers for their leadership.
COS Board of Directors (2014-15)

---

President
Allan Slomovic, MD
Ontario
Past-President
Paul Rafuse, MD
Nova Scotia
Board Liaison, Resident Affairs
Mona Harissi-Dagher, MD
Quebec
Chair, Council on Provincial Affairs
Andrew Budning, MD
Ontario
Chair, Annual Meeting Planning Committee
Yvonne Buys, MD
Ontario
Chair, Council on Continuing Professional Development
Colin Mann, MD
Nova Scotia
Secretary
James Whelan, MD
Newfoundland and Labrador
Treasurer
Geoff Williams, MD
Alberta
Under the leadership of our Board of Directors, Committees and Councils, COS had an active and successful year. For more information, please see the 2013 Annual Report.
Restructuring of the CPD Council
All activities at COS are guided by our Strategic Priorities, Strategic Directions and Intended Outcomes plan, which outlines our goals in the areas of Finance and Resource Management, Governance, Membership, Education, Advocacy, Communications and Media Relations.
In order to achieve our objectives in the area of Education, the Council on Continuing Professional Development has been restructured. This restructured Council will now include:
The Annual Meeting Planning Committee
The Canadian Journal of Ophthalmology
Maintenance of Certification
Digital Technology Online Learning
Clinical Practice Guidelines - this committee will be renamed Practice Resource Committee
This new structure will allow for greater cross-pollination between the various CPD areas, as COS moves to fully embrace online learning and digital technology to enhance our value to our members. Dr. Colin Mann is the chair of the new Council on CPD and joined the COS Board in June 2014. The new Council on CPD held its inaugural meeting on September 29, 2014.
Advocacy
COS response to a proposal by the College of Pharmacists of British Columbia to adopt USP 797
COS was recently asked to lend its support to the Eye Physicians and Surgeons Society of British Columbia in response to a proposal by the College of Pharmacists of British Columbia to adopt USP 797. Issued by the U.S. Pharmacopoeia (USP), this regulation governs any pharmacy that prepares compounded sterile preparations.
In a letter to BC Minister of Health Terry Lake and the College of Pharmacists of BC, we supported the BC Society of Eye Physicians and Surgeons to request a meeting with the College of Pharmacists of BC to express concerns and provide stakeholder input. In addition to supporting ophthalmology representation at meetings regarding USP 797, we requested a detailed analysis of the expected implications of USP 797 on ophthalmic patient care, specifically in terms of any increased time to access, increased cost or decreased availability of urgently needed compounded medications. This letter was co-signed by the presidents of COS, the Canadian Retina Society, the Canadian Cornea, External Disease & Refractive Surgery Society, the Canadian Glaucoma Society, as well as by the Chair of the COS Toxic Anterior Segment Syndrome Task Force.
COS responds to proposed scope of practice expansion for optometrists in Alberta and Saskatchewan
Medical organizations including COS, Eye Physicians and Surgeons Association of Alberta (EPSAA), the Alberta Medical Association, the College of Physicians of Alberta, the Canadian Medical Association, and the Royal College of Physicians and Surgeons of Canada have all expressed concern regarding the level of consultation with the medical profession before an expansion of the scope of practice for Alberta optometrists was announced by the Minister of Health on April 29, 2014. Following a face-to-face meeting on June 9 with COS's immediate past president Dr. Paul Rafuse and president of EPSAA Dr. Kenneth Romanchuk, the then minister of health, Fred Horne, pledged to write to the regulatory bodies for optometry and medicine to propose the coordination of services through a Strategic Clinical Network.
COS was recently invited by Alberta Health to comment on the latest proposed changes to the legislation and was disappointed to see that the amendments do not reflect the grave concerns of the medical profession around granting optometrists in Alberta such an expanded scope of practice. This expansion would justify allowing them to advance from being providers of primary eye care to doctors skilled at the diagnosis and treatment of all eye disease within the visual system and its associated structures. The change in scope of practice would allow optometrists to prescribe essentially all oral and topical drugs and order all related laboratory tests. COS reiterated its concerns in a letter to Alberta Health, and in a letter to the new minister of health, Stephen Mandel, and the new premier, Jim Prentice.
In Saskatchewan, COS was also asked to comment on revised Optometric Professional Bylaws Amendments circulated for comment to various stakeholders. COS continues to be concerned that the current process for these important bylaw amendments has not carefully considered the recommendations from the Section of Ophthalmology, Saskatchewan Medical Association. In a letter sent in October 2014, COS appealed to the Saskatchewan Ministry of Health to engage in a transparent consultative process with ophthalmology prior to enacting changes to the Saskatchewan Association of Optometrists' bylaws; requested to be informed about the evidence that supports the need for this increased scope in practice; recommended that ophthalmologists and optometrists in the province of Saskatchewan work collaboratively following the Model of Interprofessional Collaboration in the Care of Glaucoma and Glaucoma Suspects; and urged the province to develop an eye health council, which would provide an open and transparent forum for future discussions about patient-centred eye care in Saskatchewan.
2014 Annual Meeting
Our Annual Meeting, our flagship CPD program, continues to exceed all expectations. The 2014 Annual Meeting in Halifax featured 17 international speakers and brought together over 1,300 participants for four days of workshops, research presentations, plenary sessions, surgical skills transfer courses (wet-labs), and networking. Congratulations and special thanks to Dr. Yvonne Buys, Chair of the Annual Meeting Planning Committee and to all of the session chairs for their strong leadership.
Mark your calendars now for 2015! Our meeting will be held in beautiful Victoria, BC, from June 18 to 21. Watch the COS website for details as they become available.
COS member awards and distinctions
COS congratulates the following members who have been recently recognized as leaders in their fields.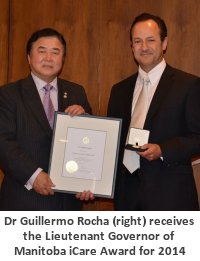 Dr. Guillermo Rocha was the 2014 recipient of the Lieutenant-Governor of Manitoba's iCARE Award. The iCARE Award was established by the Lieutenant-Governor in 2012 in order to recognize an eye care professional who demonstrates innovative and/or unique contributions to eye health in Manitoba, who works within their associate body and who has made significant contributions to the community at large. Dr. Rocha supports COS through his involvement as Cornea Session chair for the COS Annual Meeting, as the chair of the COS Eye Bank Committee, and as a liaison with Canadian Blood Services, among other things.
---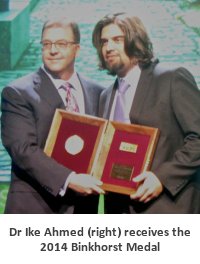 Dr. Ike Ahmed received the Binkhorst Medal during the recent American Society of Cataract and Refractive Surgery and American Society of Ophthalmic Administrators Annual Symposium and Congress in Boston on April 26, 2014 (see news release). Since 1975, the Binkhorst Medal has been awarded to the world's most prominent ophthalmologists whose careers have made significant contributions to the science and practice of ophthalmology. During his distinguished career, Dr. Ahmed's work has established him as a foremost leader in the field of ophthalmology and a primary force in the surgical management of glaucoma, complex cataract, and intraocular lens complications.
---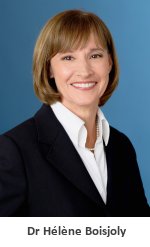 Dr. Hélène Boisjoly, Dean of Medicine at University of Montreal, was appointed Chair of Board of Directors of the Association of Faculties of Medicine of Canada (AFMC). AFMC is governed by the Board of Directors, comprised of the Deans of the 17 faculties of medicine and up to four public members. The objective of AFMC is to promote the advancement of academic medicine in Canada through the review and development of standards for medical education in Canada; development of national policies appropriate to the aims and purposes of Canadian faculties of medicine; fostering of research into major areas of interest for Canadian faculties of medicine; and representation of the Canadian faculties of medicine to key agencies.
---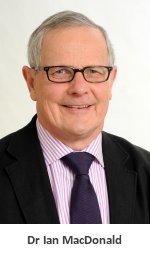 Dr. Ian MacDonald, Chair, Department of Ophthalmology and Visual Sciences at University of Alberta was been appointed to the Institute Advisory Board of the Canadian Institutes of Health Research (CIHR) Institute of Neurosciences, Mental Health and Addiction, replacing Dr. Isabelle Brunette who has effectively championed vision health research at CIHR for the past seven years.
---
Members: If you or someone you know has received an award, distinction or appointment, please let us know so we can share this information with your colleagues!