VERSION FRANÇAISE
---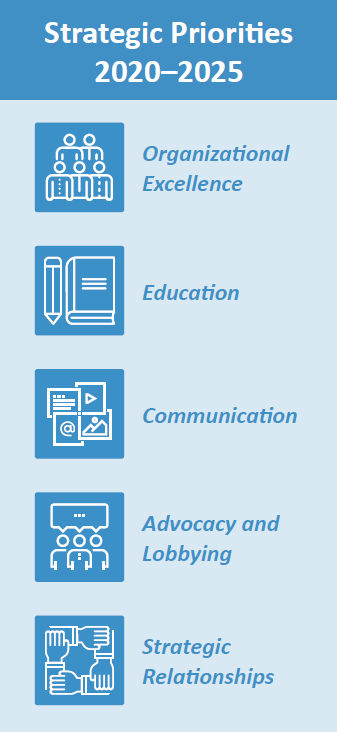 SPRING 2019
Towards 20/20 in 2020
Dear Colleagues,
We are almost halfway through 2019 and 2020 is on the horizon. For ophthalmologists, could there be a more auspicious year? At COS we are indeed striving to perfect our vision for our Society, our members, our profession and, of course, our patients.
To guide us into 2020 and beyond, we are excited to announce our updated 5-year Strategic Plan. In the fall of 2018, key informant interviews were conducted with 18 key stakeholders and opinion-leaders, and a Membership Survey was circulated to all of our members. The COS Board met in late November 2018 to review the findings, and again on April 7, 2019 to develop our Strategic Priorities for 2020-2025. Our new five strategic pillars build on our previous priorities, but highlight some subtle changes in our strategic direction. The new plan is organized around Organizational Excellence, Education, Advocacy and Lobbying, Strategic Relationships, and Communication. In this issue of Eye to Eye, I'd like to briefly focus on a few of these, with a promise to provide more information on each pillar as 2020 approaches.
Education
COS has always prioritized education, especially our centrepiece educational event - the Annual Meeting. We will continue, under the leadership of Dr. Mona Harissi-Dagher, to strive for excellence in this meeting, but we are also committed to offering more and diverse CPD opportunities to our members. For example, COS will further enhance programs and initiatives that are focused on physician wellness. As the recipient of targeted funding from MD Financial Management Inc. for physician wellness initiatives, COS will receive $200,000 over three years for CPD activities that address physician wellness, specifically geared toward the ophthalmologist. Dr. Lisa Gould will chair the COS Physician Wellness steering committee with members Dr. Lorne Bellan, Dr. Colin Mann, and Dr. Rishi Gupta. As a testament to the importance of these topics for our members, the Section 3 accredited workshop on informed consent being offered at this June's Annual Meeting sold out within a week and has a wait list.
Another exciting change on the Education front is the soon-to-be-released Practice Resource Centre. Dr. Colin Mann, Chair of the Council on Continuing Professional Development (CPD) and of the Maintenance of Certification committee, has worked tirelessly with COS staff to make this a reality. This online portal will provide members with access to tools and resources related to the ophthalmologist's practice, including CPD opportunities and events, accredited and unaccredited activities, position statements, and much more. This will be a very dynamic portal, with content curated and created by a rotating group of young ophthalmologists.
The CJO Editorial Board will continue to highlight innovation in ophthalmology. In addition, keep your eyes out for a CJO supplement dedicated to physician wellness. The new CJO Resident Advisory Council will be launching several initiatives, including CJO Resident Digests, which will highlight articles from each CJO issue and discuss how they are relevant to Canadian residents. CJO is also looking at ways to modernize its website and has launched Instagram and Twitter accounts to ensure material is available via these platforms.
Communication
COS is in the process of overhauling its website, which should launch this fall. Members and visitors to the site will notice big changes, including a find-an-ophthalmologist feature (for physicians and patients). We also plan to leverage our very impactful patient testimonial videos that are produced as part of the See The Possibilities campaign by featuring them on the home page of the new site.
Advocacy and Lobbying
In order to fulfill our mission to be the national, recognized authority on eye and vision care in Canada, we implemented a $75.00 increase in dues and asked members to each voluntarily contribute a minimum of $700.00 to an Advocacy and Public Awareness Fund. In 2018, we reached over 90 percent of our target and continue to see great support. The monies gathered from the Fund, along with a significant investment from COS, will be used to support our strong advocacy and public awareness work at the national level, and to empower the provinces, subspecialty societies, and academic community with advocacy tools, training, and resources to help raise the profile of the profession. Since all ophthalmologists benefit from these efforts, it is our sincere hope that all ophthalmologists will support this Fund.
We are currently moving forward with Year Three of the See The Possibilities public awareness campaign, which will continue to focus on national and regional media relations, patient video testimonials, and influencer engagement, but with the addition of a more grassroots approach that will help engage ophthalmologists in their own communities. New initiatives will include a Physician Toolkit, which will feature campaign materials, such as waiting-room posters, videos for physician waiting-room screens, advertisements that can be placed in local media outlets, and more.
Strategic Relationships
More than ever, COS is committed to building and maintaining strong ties with its subspecialty societies, its provinces, and the academic community through the Council on Advocacy, and with subspecialty societies also through the Annual Meeting Planning Committee and the Editorial Board of CJO. It has never been more critical for Canadian ophthalmologists to be united in the face of the many challenges our profession faces.
COS is committed to ensuring that the COS Board and governance structures of the organization reflect the diversity of the profession. Continue to look for calls for nominations for the various positions so that you can be involved in helping to shape the future of the Society and of the profession itself.
As we approach 2020, I look forward to working with you to celebrate our successes, face our challenges, and work towards our goal of 20/20 vision for our Society.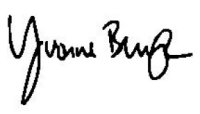 Yvonne M. Buys MD, FRCSC
President, Canadian Ophthalmological Society