VERSION FRANÇAISE
---
SPRING 2018
Together We Are Stronger
Dear Colleagues,
In my last issue, I spoke about the numerous pressures on our specialty, and in this issue, I'd like to talk about how we, as Canadian ophthalmologists, can withstand these forces by remaining a united front and voice for our profession and patients.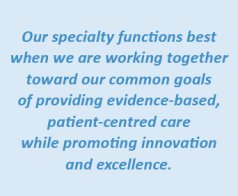 In Canada, we are a small specialty of about 1400 physicians. If you were to put us all in one building, we'd barely fill a typical urban high school. We all followed a similar path, choosing ophthalmology over the other fascinating medical careers that were available to us. After residency, some of us went onto subspecialty training and eventually we all settled into practices in rural, urban, and remote places across this huge country. But regardless of our subspecialty or geographic endpoint, we are all, first and foremost, ophthalmologists. It is perhaps a peculiar feature of the miraculous tiny organ that is the eye, that its care can be divided into so many subspecialties. But the eye only functions optimally if all its parts are working together. Similarly, our specialty functions best when we are working together toward our common goals of providing evidence-based, patient-centred care while promoting innovation and excellence.
At the national level, COS has always provided a forum for unity and collaboration - a place for all ophthalmologists, regardless of subspecialty, practice location, or academic setting, to congregate and learn from each other. Through its many committees and councils, not to mention its international and allied health affiliations, COS provides countless opportunities for cross-functionality and cross-pollination. Because there are relatively few ophthalmologists in Canada, many of us at COS wear multiple hats. As COS President, I have always tried to view each issue not only from the perspective of President, but also from my vantage point as an academic and practicing surgeon in Manitoba. The Program Director at one university may also sit on the COS Board, and work directly with the Royal College and sit on an international committee. Thus, our COS volunteers are ideally suited to seeing the big picture.

Today's ophthalmology residents are more unified than ever before. Technology allows them to communicate with each other in ways and at a speed that were unthinkable even a generation ago. Courses such as the Halifax Ethics Symposium in Ophthalmology and the PGY-1 TORIC course ensure that strong personal and professional bonds are formed from the outset of their training. COS understands the importance of fostering a strong resident's community in Canada - our future is in their hands.
Our Annual Meeting is a perfect example of how all our subspecialists work together to advance the expertise of not only their members, but all ophthalmologists. Our international speakers consistently praise the collegial nature of the COS Annual Meeting and the sense of community that the meeting fosters. This is certainly one of the reasons we are able to attract such high-calibre faculty. COS also recognizes and supports the vital roles of the subspecialty societies in advancing patient care. As a cornea specialist and guest at the recent Canadian Retina Society Meeting in Mont-Tremblant, I was amazed at the technological advances in this subspecialty. I am sure non-cornea specialists would be equally impressed with the developments in my particular field.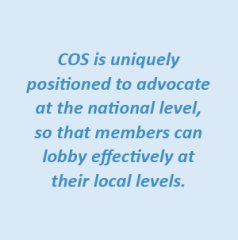 Less exciting, however, are the challenges we all face at the provincial level, where budget cuts, politics, scope of practice debates, drug shortages and drug discontinuations, and bureaucracy are constant realities. COS is uniquely positioned to advocate at the national level, so that members can lobby effectively at their local levels. In order to provide more support to the provinces, subspecialty societies and the academic community, COS's small full-time communications and government relations staff will soon be joined by a part-time consultant to provide rapid responses to critical issues as they arise across the country. In addition, this rapid response team will be able to advise and work with the provinces, subspecialty societies and the academic community on common issues and propose solutions that have been successful in other jurisdictions and for other groups. Our provinces, subspecialty societies and the academic community will also have access to Advocacy and Communications training and an Advocacy 101 Toolkit to help them develop their own proactive and response skills that are aligned with the vision of being the unified voice for ophthalmology in Canada.
I'd like to provide a concrete example of how COS can manage challenges that may appear to be local in scope or subspecialty related, but in fact have ramifications for the profession and, of course, for patients. Last fall, a news feed popped up on my laptop between surgical cases. It pertained to a private Member's bill on presumed consent for organ and tissue donation in Manitoba. The bill was quashed by the governing party before it was even discussed. Within a few hours, COS and Eye Physicians and Surgeons of Manitoba (EPSOM) had collaborated on a position statement and our provincial President was interviewed on this important issue and its potential impact on cornea donation. What happened in those few hours was the result of a united effort - COS with its expertise in approaching government, EPSOM with its infrastructure and our local cornea surgeons with their medical knowledge - towards the common goal of benefitting our patients. After a series of communications between COS, EPSOM, cornea surgeons in Manitoba, members of the opposition party and MLAs, we were invited to the Standing Committee on Organ and Tissue Donation in Manitoba.
I urge all Canadian ophthalmologists to continue to support COS - your national voice - with your membership, your participation in our scientific meetings, your submissions to the Canadian Journal of Ophthalmology, and your financial support of our Advocacy and Public Awareness Fund. A strong national society is essential if we want to safeguard against any erosion of our role in the eye healthcare team.
My term as President will end this June and I wish to thank the COS membership for the opportunity to serve in this capacity, as well as the COS Board and staff team for their support. I have been privileged to travel the country and see firsthand the day-to-day issues facing our members. I have learned much about the importance of teamwork, creative problem-solving and respectful debate. Yes, there have been challenges, but I am very proud of COS's accomplishments, and I look forward to seeing COS continue to thrive under the very capable leadership of President-Elect, Dr. Yvonne Buys.
Best regards,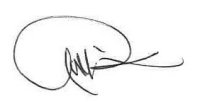 Guillermo Rocha, MD, FRCSC, FACS
President, Canadian Ophthalmological Society
---